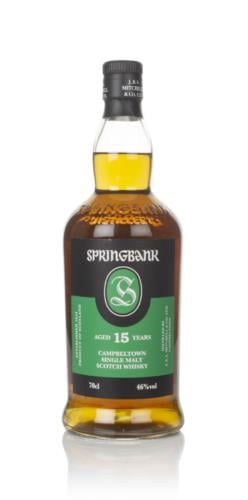 Region — Campbeltown — 46% ABV
Springbank 15yo is a whisky that I find myself revisiting over and over and over again.  I think it's perhaps one of my favorite whiskies, like… ever.
While I may revisit it many times over, I've not revisited it from a let-me-disect-it-and-post-it-on-my-blog point of view.  I just spend a lot of time enjoying it.  Isn't that what whisky is all about anyway? Enjoyment?
The last time I reviewed Springbank 15yo was June 17, 2011
So, here we are almost 4 years later.  Let's see what the 2015 version is like.
On the nose — Lots of lime and orange marmalade (mostly orange) at first but it's got a veil of peat it's hiding behind.
Blue slate wet with rain water and a stick of hard and powdered chewing gum you found from that package of Topps baseball cards released in 1980-something.
A hint of mint but a good dose of coastal breeze and dying beach grass.
On the mouth — Chewy and thick with bold notes of Duerr's coarse cut orange marmalade.
A touch of peat is present but so is some now-cold potpouri.
There's a touch of oak to let you know you're dealing with a 15yo whisky but the oak's true impression upon the juice is that of dark fruits, spiced citrus drops and still more marmalade.
Oh, and burning sticks as we reach the now drying finish.
Finish — Drying and pleasant with a good deal of orange spice with the tiniest hint of clove.
In sum — What's difficult to explain about this whisky — about all Springbank whiskies — it's how unique the spirit itself is.  Yes, there are lots of notes here that you'll find in other whiskies but you'll never taste a more unique spirit than Springbank.  It's too difficult to put it into words, sorry.  If you've never had Springbank before, it's worth seeking out.
If I could, I would likely drink the $(*& out of this whisky every single day.  It's that good.