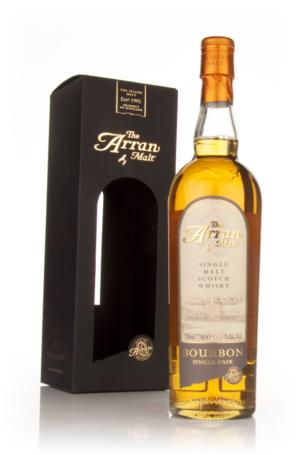 Islands Region – Cask #650 – 57.6%ABV – $85 | £46
Just over a month ago, the Connecticut chapter of the Jewish Single Malt Whisky Society (or at least a part of it) had the distinct honor of having Andy Hogan of the Arran Malt Distillery host a tasting for us.
Twenty-two people gathered together to taste, experience and explore a collection of Arran's best whiskies.  We had some people trek a good way to be a part of our tasting.  Joe H from Boston and Stephen M from Providence (and of Malt Impostor fame) both drove about 2.5 hours to join us.  Thanks guys!! Great having you there!  Also, Andy flew all the way from Scotland to be with us – Thank you, Andy!!
Andy did a wonderfully fantastic job taking us through his whiskies; teaching us about Arran as well as the ins and outs of Scotch Whisky in general.  We learned, we laughed, we tasted, we had a blast.  Mr. Hogan brought with him 6 different whiskies: Arran 10yo, Arran 14yo, Machrie Moor (peated Arran whisky), Arran Amarone Cask, a very secret Arran whisky that's never been bottled (but was totally delicious; perhaps the 2nd favorite of the night) and lastly, this here whisky — an 11yo Single Ex-bourbon cask (first fill).  This whisky was the easily favorite of the night.  I liked it so much I bought two bottles!
Here are my notes:
On the nose – Intense notes of banana peels and salted green apple skins.
A bit of nail polish remover (in a nice way).
Fresh-fresh coconut shreds & chunks followed by spiced anjou pears and lemons.
Delicious warmed rice pudding.  Fresh, uncut green grass.
All of these notes are incredibly strong — this is a no holds barred nose.
I'll have to take this one by the horns and ride the rodeo.  Next up, the taste…
On the mouth – Chewy, thick, oily mouth feel with loads of warmed caramels and gooseberry jam.
Back to the grassy notes (fresh grass) but there's a great note of sassafras in here – hey now!
Buttered butter beans and green beans.
Back to the savory chewy/candied notes: candied walnuts, toffee and salted caramels.
An intense malty & oaky note creeps in (not sure how I missed it from the start.  It basically slapped me in the face just now).
A good deal of vanilla as well.
Finish – Very long with notes of malt and the sassafras I got on the palate.
In sum – While delicious, this whisky is not to be taken lightly.  I might suggest it be diluted by a little bit of water if you feel you need it (however it is not required).  To be enjoyed at dusk just as it starts to get a little cooler and almost sweatery.