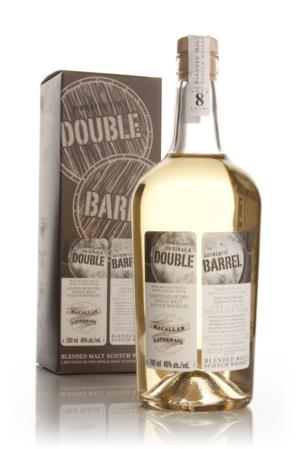 A vatting of Macallan & Laphroaig – aged 8 years – 46% ABV – $80 – $100 | £40 |€45
This is going to be an interesting experiment for sure.  Mixing anything with Laphroaig is a gutsy move.  Laphroaig has such a strong personality!  The Macallan does as well but you usually find the strength in their sherried expressions.  Judging by the color (like a light white wine, say… a riesling), I'd say there is no sherry influence whatsoever.
I think the point of these whiskies is to give the consumer an idea of what two great whiskies can do for and with one another.  My approach, especially with this expression is — which whisky wins!?  Sort of a last dram standing approach.
Let's see what we get…
On the nose – A very Laphroaigian nose – pungent peat smoke.
Very forward notes of seaweed and bacon (like walking into a Greek diner on a Sunday morning).
Mustard seed.
Some dried fruits…
Apricots & mangos.
Where's the Macallan in all of this?
Hints, mere hints, of caramel.
On the mouth – That seaweed note I got on the nose is transformed into sea water/brine.
The mouth feel is very nice, oily with a bit 'o chew to it.
Everything after this gets quiet (understated).
Little notes of honey, vanilla, caramel and even some nuttiness.
The forwardness of the nose is gone completely and from what I can guess here is that these more Macallian notes on the palate are just being over powered by the pungentosity (hello new word!) of the Laphroaig.
Finish – Laphroaig is surely the winner here.
Smoke remains aboard the tongue of the USS Hatton (that's me, folks) as do the briny/seaweedy notes.
In sum – After tasting this whisky I decided to search out what other people thought of it and I was struck by the notes that Whisky For Everyone had.  We're on the same page when it comes tho this whisky.  With how strong the Laphroaig is this expression, I would suggest this as a cold evening dram.  Bundle up, drink more, stay warm!
Special thanks goes out to Aron of the SMWSA for the sample!