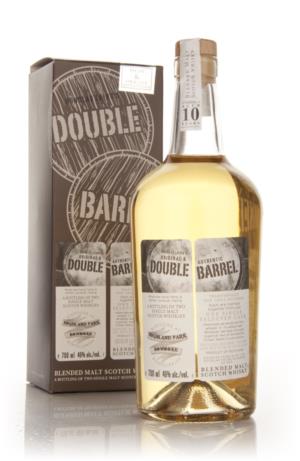 A vatting of Highland Park & Bowmore – 46% ABV – $60 | £34 |€39
Forging forward with reviews of  blended/vatted whiskies.  Today I present a Double Barrel expression by Douglas Laing.  A combination of Highland Park & Bowmore.
Douglas Laing is one of the more prominent independent bottlers who brings us the Old Malt Cask, Premium Barrel & Provenance bottlings.  They also are the masterminds behind Big Peat and, now, these Double Barrel expressions.
Similar to the Eades Double Malt expressions I recently reviewed, the Double Barrel whiskies are vattings (or blends) of two different single malts.  The difference being that these are not further matured in wine casks (like the Eades double malts are).  As far as I can tell, both the Highland Park & Bowmore are ex-bourbon casks with no extra finishing (very light in color!).
On the nose – A tricky nose here.  Bowmore whiskies are known for their soapy noses and I've found a few un-sherried Highland Parks to have the same quality.
So, at first sniff, it's tough to tell which malt is stronger, or, which is which.
Let's focus on the scents, shall we?
Garlic cloves and lemon zest.
Peachy, fruity handsoap.
Crispy tempura batter.
White pepper and turmeric.
On the mouth – Fresh lake water.
Orange zinger tea bags.
Exceedingly citrusy – vanilla notes are there but the citrus cuts right through.
Astro pop brand lollipops.
Very malty with traces of pears and honey.
Decent mouth feel, not thin, not oily.
Lingering smoke weaved throughout.
Finish – A lasting numbness on the back of the tongue.  Peppery finish.
In sum – A very enjoyable nose here.  Lots for the foodies out there.  While I enjoyed the flavor it seemed a bit off balance and the play by play between the vanilla notes and the citrus notes was uneven.  Overall, I did enjoy this expression and am curious to see what else the good folks at Douglas Laing will come up with next.   Perhaps it's the mood I'm in now but, I' like to sip on this again soon (in other words, this is a nice Autumnal whisky)
Special thanks goes out to Aron of the SMWSA for the sample!