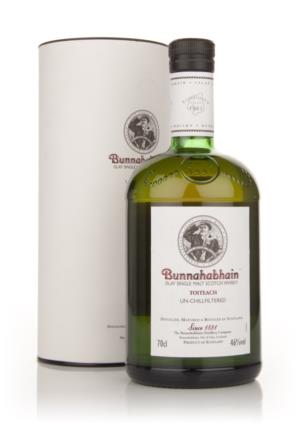 Islay region – 46% ABV – $75-$80 |  £50
Today, along with the next few days as I catch up with my whisky reviews, I'm going to have to keep some of the preamble short and try to get right to the whisky review.
A few weeks back I got an email from Jeff K with Burns Stewart asking if I'd be interested in reviewing a new Bunnahabhain to the US market – a peated ex-bourbon Bunny.  Quite a stretch from their more standard, sherried, lightly (if at all) peated whisky.
My response to Jeff?  "Yes," and "Thank you!"
So Jeff, thanks for the official sample!
This whisky is set to be launched in the US on April 1st (or there abouts).  No, this is not an April Fools Joke.
One more thing before I get to the review – I have to say kudos to Bunnahabhain, once again, for releasing their whiskies now at 46%+ ABV and non-chill filtered!  I hope other major distilleries follow you (yes, I'm looking at you GlenWhisky!!)
On the nose –  Wow, not what you'd expect from a Bunnahabhain – Pungent, briny, high tide, seaweed.
Good bits of toffee and floating about is a touch of lavender.
Sand buckets filled with wet sand from your trip to the beach with the kids last week.
Cigarette tray from a '70's Chevy Nova (with hints of Naugahyde in the background).
On the mouth – Welcome to the industrial age.  Jackhammer smoke and contraction sites.
Fantastic mouthfeel, quite oily.
Bursts of Dragonfruit slide down the back of the tongue.  Pears and apples quite browned but minus and and all brown spices – just the baked fruit.
Strip all I said away, bring it down to brass tacks and this is a solid, solid peat monster – and a bit peppery one at that!
Finish – Sweet and smoky with a fair amount of laminated cardboard candy boxes.  Medium length to the finish.
In sum – This 14yo whisky is one kick ass peat monster.  To be used as a really enjoyable way to warm the bones.  Good one, you little Bunnies!  Very nice to see that Islay's more gentle whisky can hang with the other Islay peat monsters with head held high!