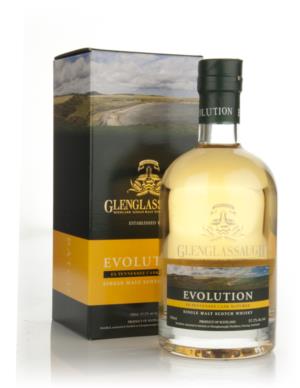 Highland region – 57.2%ABV – £57 | $93
Crack that whip / Give the past the slip / Step on a crack / Break your momma's back
When a problem comes along
You must whip it
Before the cream sits out too long
You must whip it
When something's going wrong
You must whip it
Now whip it, Into shape, Shape it up, Get straight, Go forward, Move ahead, Try to detect it, It's not too late, To whip it.  Whip it good.
Don't get me wrong, I love Devo as much as the next guy.  In fact, I likely love Devo way more than the next guy and think their music is quite genius but man, these lyrics go on and on and I never got them (but love the ever living snot out of the song).
I'm such a Devo-geek that as soon as I heard what Glenglassaugh was calling their 2nd bottling, Evolution, I thought of Devo.  (Who, by the way, got their band name from the concept of De-evolution – "the idea that instead of continuing to evolve, mankind has actually begun to regress, as evidenced by the dysfunction and herd mentality of American society".)
Whatevs – rock and roll!!
And now, perhaps my favorite version of The Rolling Stones "Satisfaction":
Ok, enough with my love of the Devo, let's get on with my new found love of the Evo(lution)!
On the nose –  Another "confident" whisky here.
To start, a great and somewhat forceful interplay between churned butter, oodles of butterscotch and fresh white grapefruit.
Heaps of white pepper and vanilla wrapped in saran wrap and all warmed up (yes, this is a warming nose).
Did I mention butterscotch?  Yes, I did.  Just above.  It's well worth another mention though…
Barley cakes & oat cakes.  Light lemon notes and soft leather gloves.
On the mouth – Perhaps it should have been called "Explosion."  This dram bursts with that now classic Next-Gen Glenglassaugh fruity character.
It is, however, tempered quite well with the very Tennessee oak characteristics of vanilla, honey and spice.
Light malt laden flavors now and back again with white pepper and a bit of that grapefruit I got on the nose.
Oh. So. Butterscotchy.
Medium oil-like texture with some citrus zing on the sides of the tongue.
Finish – Heavy wood spice, toasted oak, long and slightly bourbony.
In sum – I bought a bottle the day it hit the Glenglassaugh store.  I had to have it.  Glenglassaugh matured in George Dickel barrels?  No brainer.
I obviously wanted to do a formal review of the whisky but went through half the bottle before I took actual notes (mainly because I just wanted to enjoy the whisky without dissecting it).  Like George Dickel, this is great sippin' whisky.  Perfect for sitting on your porch or deck and letting the hours pass by…
Normally I do not like to mix cigars with my malts but I imagine this would go quite well with a cigar.  Perhaps a mild bodied one.
To Glenglassaugh, this whisky is an evolution in their new story (and a great story it is!)  For you as the consumer, this whisky is all about a little you time.  Relaxing times.  At only 6,000 bottles, you may want to to grab a bottle fast!
You may be interested in Oli's notes on dramming.com