And now for the sixth installment to my interview series.
As you hopefully know by now, I've started series of interviews to help demystify some of the many aspects of the whisk(e)y industry.  Who makes it, how they do it, how they got into it, how to they sell, promote it, market it, etc…  While this series is called "A Day in the Life", it will focus on more than on just a single day in the life of a Cooper, Sales Person, Ambassador, Master Blender, Independent reviewer/critic, etc…  I try to get a full picture of what they do from day to day.  Also, I will try to get a little personal (without making said person or people blush).
For previous interviews I've done, please see the links below (at the end of this interview).
I am honored to have had the opportunity to talk with and interview Wesley Henderson, COO of the Louisville Distilling Company and son of Lincoln Henderson, creator of the new Angel's Envy Bourbon.
Joshua: Wesley, please explain who you are and what you do for The Louisville Distilling Company – on a day-to-day basis (or week to week, month to month if that makes it easier).
Wesley: My title is Chief Operating Officer.  At the moment, my life is consumed with all of the logistics required to bring a new consumer product to market.  We have bourbon produced in Kentucky, port barrels from Portugal, glass production from Italy, corks from Portugal, glass decoration in Canada, paper package elements from Ohio, cardboard cases from Indiana, marketing Managing Partner in Colorado, finance Managing Partner in Illinois, and distribution Managing Partner in Florida.  My job is to have all of these elements converge at the same time to bring Angel's Envy Bourbon to the shelves.  I am also actively working on plans for our distillery, which will most likely be located in the downtown Louisville area next year.
Joshua: As you had mentioned in our phone conversation, Angel's Envy bourbon is the brainchild Lincoln Henderson, your father.  Can you explain, to those people who may not know, who Lincoln is and what he has done with and for the American Whiskey market?
Wesley: To me, Lincoln is just "Dad", but I am always in awe of what he has accomplished and what he has contributed to the history of distilled spirits in general, and whiskies in specific.  While he is probably best known as the creator of Woodford Reserve Bourbon, which has been a huge commercial success, Lincoln spent the better part of 40 years at Brown-Forman, where he was responsible for their whiskies worldwide.  Wine and Spirits has described him as a "living legend", and he was inaugural member of the Bourbon Hall of Fame.
Joshua: How is Angel's Envy different from other bourbons out on the market today?  Is there a different process you use in distilling and/or maturation?
Wesley: The big difference with our first expression will be the port barrel finish.  The bourbon Lincoln has sourced for Angel's Envy was selected with the finishing process in mind, and the profile, while done in the traditional Kentucky bourbon methodology, is most conducive to what we set out to accomplish with the final product.
Joshua: Do you have a target demographic (or better yet, type of drinker) for your bourbon?  In other words, how would you feel about people using your product in a mint julip, whiskey sour or any other type of mixed drink?
Wesley: The demographics for premium bourbons are changing.  Ten years ago, the premium bourbon consumer was closely aligned with the demographics of single malt consumers.  In general terms, this would have been a white male, 45+.  Over the last few years, the average age has dropped to what I would categorize as 35+, with more and more younger folks appreciating bourbon.  With the recent cocktail revivals, and popularity of bourbon in cooking, we are seeing more females turning to premium bourbons.
Up until recently, as a purist, I would cringe when I saw a good bourbon mixed in any drink.  I am now growing to appreciate the complexity of bourbon as it translates to cocktails, and even enjoying some of these creations.
As a Kentucky boy…I always appreciate a mint julep…
Joshua: As sort of a follow up question to Angel's Envy being used as a mixer — what will the price point for your whiskey?
Wesley: The price point is $45.99 per 750ml.
Joshua: How many bottles did you produce for this first batch of whiskey and how long do you expect it to last?  Additionally, what are your plans for your 2nd, 3rd & 4th releases?  Different finishes?  Change to the mash bill?  Limited expressions?
Wesley: We are bottling only 8000 6-bottle cases in the first round, and are working right now on how to allocate.  There are a number of different finishes planned, a cask strength bottling, along with some other interesting twists.  As we get our own production facility online, the possibilities are unlimited.  We have also been exploring historic recipes, varying grain bills, enhanced maturation, and varying barrel entry proofs.
Joshua: Being that your bourbon is one that is finished in non-newly charred oak barrels, who chooses the finishing barrels and could you explain that process?
Wesley: The port barrels for finishing are hand-selected by Lincoln, and are sent to the US from Portugal.  The barrels are filled with bourbon, placed on the top floor of the warehouse, and are dumped when Lincoln is satisfied with the finish.  This can take 4-6 months.
Joshua: As you've explained to me on the phone, you are currently getting your spirit distilled off site.  When do you plan on distilling on property and how do you feel the whiskey will change, if at all, by the change in location, water source and stills?
Wesley: This is a real challenge.  Since Angel's Envy Bourbon will be well established in the marketplace by the time we are online with our own facility, it is very important that our core product remains consistent.  By releasing "expressions", we have given ourselves some latitude and creative "wiggle room".  To this end, I am embracing subtle changes in our product, and we will actually draw attention to these subtleties.
Joshua: I've got to say, from all I've seen of the Angel's Envy product shots, that is one sexy bottle!  Who came up with that design and where/how are these being produced?
Wesley: One of our business partners, and our Chief Creative, is Alex Bogusky, and his team is responsible for the package design.   Alex is the former Chairman of Crispin Porter+Bogusky, one of the world's most awarded agencies, and agency of record for brands such as Microsoft, Volkswagen, Dominoes Pizza, Burger King, Coke Zero and Old Navy.  Under Alex's leadership, CP+B has over 1,000 employees, and offices in Miami, Boulder, Los Angeles, Canada, London and Sweden.  Our glass production, and related design elements, have all been coordinated by Saxco International, in Louisville.  The glass is produced in Italy.
Joshua: One thing I try to focus on with my blog is what dram to drink for a particular mood or season.  Being that Angel's Envy is being released in Autumn, would you say it's more of a cooler weather whiskey?  Do you approach personal consumption in this manner?
Wesley: Personally, I don't approach spirits in this way.  One of the great things about bourbon is that it is so versatile, and there are ways to enjoy the spirit year-round.
Now to get a bit personal…
Joshua: How did you get into whiskies?  Did you have a gateway whisky?  Do you have a story that goes with it?
Wesley: Since my father spent his entire career at Brown-Forman, since I was a child, I remember the smell of grains cooking and fermentation, as I would often go to work with Dad on Saturdays.  I had the entire R&D lab at my disposal, and remember a particular interest in the yeast strains.
Joshua: What passions, other than whisk(e)y do you have?
Wesley: Most of my free time is spent with my six children.  I am pretty active as a football and basketball coach.  I also hold a pilot's license, and love to fly, when my wife lets me.
Joshua: Do you have a list of Top Drams or perhaps some Desert Island Drams you'd like to share?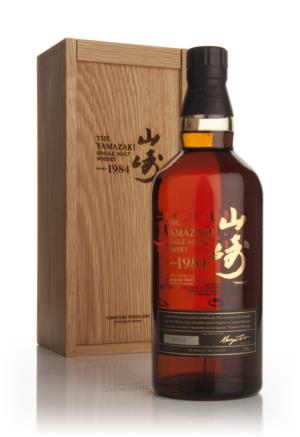 Wesley: Yamazaki 1984
Joshua: Without giving out names & places (basically, without getting yourself into any trouble), do you have any funny, interesting or bizarre stories from any of your events/travels that you wish to share?
Wesley: Sadly, I don't have many exciting stories from the industry. Working in radio and the entertainment industry in a previous life has armed me with a number of tales, none of which are appropriate for mixed company.
I am blessed to spend time with some of the true masters of whiskey, and I am always amazed with the rich history of our industry.  As an example, I spent some time with Jimmy Russell in San Francisco a few weeks ago, and I was thinking about how one day I would like to be remembered for my contributions to the industry.
Of course, Lincoln is my true role model, and if I can manage to absorb 1/3 of his knowledge, then I will be grateful.
Joshua: Lastly, if you had a message or lesson to give people who are just getting into whiskies, what would that be?
Wesley: Spend some time learning the basics.  Learn about production and history of whiskies, and embrace the wide range of opportunities.  Try EVERYTHING, and settle into what you find to be the most pleasing.
Tomorrow I will be featuring my tasting notes on the new Angel's Envy bourbon.  As a slight preview and in a word: decadence.
My previous interviewees are:
Serge Valentin of Whisky Fun! and Malt Maniacs
Stuart Nickerson of Glenglassaugh (Part one and Part two)
Alan Shayne of The Scotch Malt Whisky Society (SMWS) of America