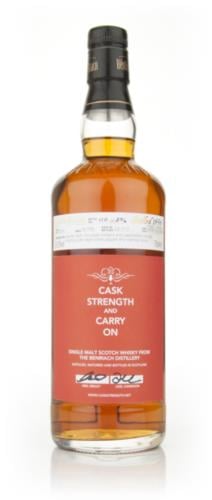 Speyside region – 55.2%ABV –£55 | $87
Apologies for the mouthful-of-a-post-title!  Some fine details there though.
A sample of this whisky came to me out of the blue.  It was a nice little surprise that showed up on my door step and I have to thank the folks at Master of Malt for it.  So, thanks guys and gals!
A long time fan of BenRiach, I am honestly not a big fan of BenRiach from PX (Pedro Ximenez) casks.  (I like my BenRiach like I like my Torah, eye-opening, sweet and fulfilling.)
The truth of the matter , however, is that I find difficulty connecting with PX matured whiskies in general.  The PX casks can be so very dominating to the overall flavor profile that the spirit character is often lost (making the whiskies often very one-dimensional).  To be sure, there are exceptions to this broad generalization I just made.
Let's see what the cask did to this 16yo BenRiach…
On the nose — What gets me from the go on this one is an unusual scent of pine needles.
Very fruity (dark fruits, dense scents) with some subtle peat (or so it seems).
Then a meatiness kicks in that is reminiscent of barbecutie beef ribs.
Fruit cocktail with bursts of cherry (skins and stones) ride the meatiness, just along the top.
Sugared malt.
On the mouth — Big 'ol mouth feel.  Loads of berries!  Loads and loads of berries (heavy on Rainier cherries).
There's something a bit dusty in here; old attics.
Zero meatiness on flavor (thankfully).
Very dense fruits and fresh tobacco/spicy unlit cigars.  Just a touch spicy.
Finish — Birch root/dark birch beer.  Long and spicy.
In sum —  All-in-all, pretty damned yummy!  The natural fruitiness of the BenRiach spirit shone through the thick PX influence.  No issues with uni-dimensionality.  If you like your whiskies big and powerful, you'll find this one to be up your alley (and surprised by some of the fine fruits in it).
You might find Jason's (of guidscotchdrink.com fame) review of this whisky interesting as well…