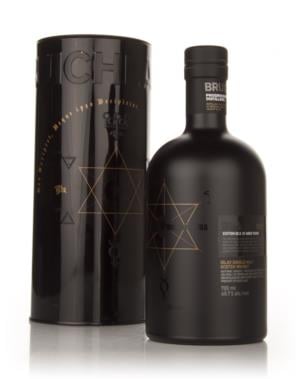 Islay region – 49.7%ABV – $170 | £84 | €97
Truth be told, one of my favorite posts here on the JSMWS blog was for the 1st Edition of the Bruichladdich Black Art.  I was able to touch on some of the things that helped shape me as a kid: Black Sabbath, The Ramones, Lord of the Rings & Advanced Dungeons & Dragons.
Hold please, need to push my horn rimmed glasses up the bridge of my nose…
OK, I'm back.
While I'm not sure I can top that previous post, maybe I can tell you what's shaping me as an adult:  First & foremost, my kids.  It's bloody f%$&ing amazing to be a dad to two wonderful little girls.  It beats any adventure I had slaying dragons (oops, see image above).  My girls are both life changing and affirming.  Also, I've got a great wife/life partner who I can share this adventure with.  She's like me only smart and funny…  and has boobies.
Music helps shape me to.  You may or may not know that I am a musician in a band called Kimono Draggin' – here's one of our videos – here's some of our music.
The music I play really has nothing to do with the music I listen to (for the most part).
The people & bands that top my list are: Bonnie 'prince' billy, Joanna Newsom, Dr. Dog, The Sparks, David Bowie, Jobriath, Neil Diamond, Slayer (and many other metal bands), Gentle Giant, Yes, John Fahey, John Coltrane, Miles Davis, Frank Zappa, Captain Beefheart, Talking Heads, Iggy Pop.
Any recording with Jascha Heifetz!
And the list can go on and on…
Lastly, whisky has shaped me and continues to shape me.  If it weren't for whisky I would not have met some many amazing people & new friends.  I'd not have this great society which is growing in ways I never imagined (most of which I can't even talk about right now!).  It also helped me to change the way I approach the world.  I stop to smell the roses a bit more (hey, they could be a tasting note after all).  The subtleties of whisky have helped me to better appreciate the little things in life that often get missed.  It might sound stupid but, it's true.  There are food & wine aficionados that will say the same thing.  The only difference here is that this is booze and not wine & food.
So, to broaden my horizons more, Bruichladdich has released a new whisky in their Black Art series: Black Art 2.  Thank you Bruichladdich!
On the nose — Crushed cherries and toasty coconut shreds.
I'm not sure of the make up in this whisky as it's a closely guarded secret but there's a sense of "new wood" here; like a freshly charred barrel which is offering up some of that coconut I got plus some vanilla and fried walnuts.
A spiciness which can be confused as effervescence (or perhaps vice versa…).
Pear drops, a touch of hay and an absolute thread of smoke…
Cranberries and fried banana.
With water: the focus is more on the banana but now with added custard notes.
On the mouth — Spicy, tannic and winey – think red raspberry, blackberry, fresh soil, black pepper, black cherry and cranberry (basically everything deeply red, dry and sweet).
Black cherry skins.  With water, like the first Black Art, all of the red fruits just got incredibly juicy.
Softer, less spicy but also slightly artificial.
An added note of watermelon – fantastic!
Finish — It's all on slightly salted watermelon and spice.  Long, dry and fruity.
In sum — Surely this whisky is of the same "spirit" and genre of the Black Art version # 1.  Strong character, truly unique and inspiring.  It's a whole new game that Bruichladdich and Jim McEwan have created here and I doubt anyone would be able to follow suit.  Kudos x 2 Mr. McEwan!  This is one to discuss amongst friends – a great way to start an intriguing conversation.
As an aside, I think I liked the 1st edition of Bruichladdich Black Art just a touch more than this.  Like Willy Wonka and the Chocolate Factory, I will always love the Gene Wilder version more than the Tim Burton/Johnny Depp version more.  PS.  That's me with a full beard (and at least as full as this Jew will ever have) and Mr. Willy Wonka himself!