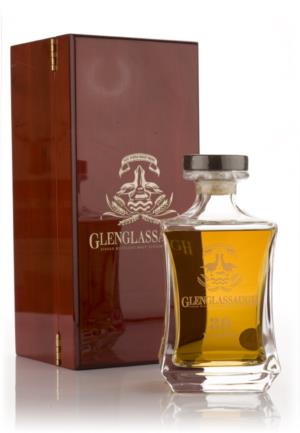 Speyside region – 55.1%ABV – 70cl Decanter (yes folks, a decanter.) – £390 | €469
I'll be upfront here.  Many folks out there will not have the chance to try this stuff.  It's rare and it's very expensive.  Before you start calling me a Daddy Warbucks I will tell you that I reviewed this dram from a sample.  A big, *BIG* thank you goes out to Alan for the sample!  Cheers He'bro!
Why am I so excited about a bottle I could never afford?  Well, because A) some of you good people out there can swing the squids for a bottle and B) Glenglassaugh is a newly re-opened distillery and if this whisky is any indication as to what we'll see coming out of their stills & casks, well…  let's say we should all be excited.
On to the whisky!
On the nose – Light & fruity nose filled with a mist of lemons (better yet, Etrog) and white pepper.
A hints of lovely oak to it.  Sweet flowers and Sharpies (black markers).
Honey salted butter (unmelted butter – a fresh stick).
Black licorice.
Sugar cubes and almond oil.
On the mouth – Fruity – Apples and berries.
Loads of toffee and burnt tea leaves.
Rose water (oh, I love this!).
This is getting hotter by the second — cayenne and jalepeno notes pop in right as it heats up – brilliant.
Black grapes and cherry skins.
The mouthfeel went from oily and chewy but we go quickly over to thin and hot.
Finish – Prickly pears both in taste and feel "prickly" tongue and cheeks.
In sum – I am thankful to have had a chance to taste this stuff.  I was only 6 years old when this was distilled.  That aside, there's a reason this is an award winning whisky.  Powerful and truly enjoyable Scotch whisky!  Another dram to break out for the most special of life cycle events such as the birth of a child, marriage, bar/bat mitzvah (for my heebs out there), Christening (because I'm an equal opportunity whisky lover), etc…
Last month I had the good opportunity to interview Stuart Nickerson (Managing Director of the newly re-opened Glenglassaugh distillery).  If you've not yet had a chance to read it, you may want to do so right now.  Part 1 & Part 2