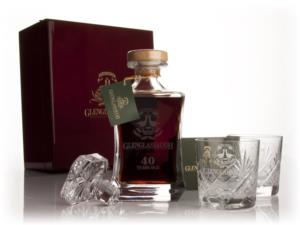 Highland Region – 44.6%ABV – 750ml or 700ml outside of the US (with crystal decanter with 2 cut crystal glasses in a wooden gift box)– $2525.00 | £1400 | €1680
After having tasted the 26yr Glenglassaugh, I could not resist in tasting my sample of their 40yr cask strength whisky (a big, huge, ginormous thanks goes out to Alan for the sample!) – an IWSC trophy winning whisky!
This whisky will be available in the US through Purple Valley Imports (well, through stores who have access to the whiskies they import).  And actually, as I am told to understand, there will only be one bottle allocated to the US for the fair price of $2525.00 (suggested retail price).
You can also get this bottle through Master of Malt and other purveyors of fine spirits in the UK.
I'm not going to blather on any longer, I just need to taste this fancy juice:
On the nose – Youthful nose filled with cherry tarts and fresh citrus notes (think Mineola oranges).
Quince jam – maybe with a bit of strawberry mixed in??
Hot soy latte.
Licorice twists.
Brown sugar oatmeal & fresh oats.
Oaken church pews.
More coffee notes – like lightly roasted, fresh ground beans.
Finally some garlic.
On the mouth – Like liking the inside of a humidor thats got Acid "Liquid" or "Kuba Kuba" cigars (oh, to taste that smell!  Ab-Fab!).
That quince jam from the nose is back and along with it came some gorgeous honey and perhaps some fennel seed.
Cinnamon and indian spices (you name it, it's in there – wow!).
Finish – The spice remains throughout and a nice fizziness lasts a good long while.
In sum – Ok, my birthday is coming up (sort of).  Remember this date: December 6th!  If you feel so inclined to buy me a bottle of this masterpiece, I thank you. 😉
Truly exquisite.  Layer upon layer of goodness.  Immensely complex and not what I'd expect from a whisky that is older than me (by four years) – youthful yet wise.
One to share with the closest of friends who happen to be whisky geeks/lovers.  One to impress the father-in-law with.