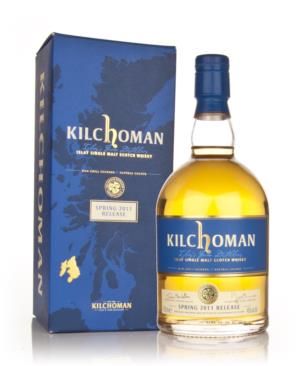 Islay region – 46%ABV – $41 – $60 (another crazy spread in US prices.  And believe it or not, some places sell for more!) | £39
Kilchoman is a very young distillery on Islay in Scotland (young, like only 5 years old, young).  Surely they fall within the peaty style of the island.  With regards to Islay whiskies, only Bruichladdich and Bunnahabhain have non-peated whiskies as part of their standard range and as flagship whiskies.
With regards to Kilchoman, from the moment of their inception, Islay whisky-philes have been watching this little farm distillery with a keen eye.  Since their inaugural release, their first REAL whisky (aged at 3 years and 1 day), people have had nothing but good things to say about their products.  The list of people with good reviews is seemingly endless.
As of a later last year, Kilchoman stopped doing their various releases (Spring, Summer, Autumn, Winter) and have launched a 2006 vintage – basically a five year old whisky.  To my knowledge, there has been only one indy bottling of Kilchoman and that was put out by the Whisky Exchange.  I have had two of their OB single cask bottlings and really enjoyed them (I still had a tiny bit left from my Binny's Exclusive bottling).
This is my first run-in with a non-single cask Kilchoman.
On the nose –  Only four years old, eh??  Bright and fresh with some smoke and peat and interestingly enough light notes of juniper (charred as it were).
OK, now some of those younger spirity notes creep through – pear drops, fresh apple too.
Some apple bread joins in on the fun as do some brine/coastal notes but it's not very intense on that front.
Cinnamon over bread pudding.
Paraffin wax and a brininess as well.
On the mouth – Big, mouth coating, oily, smoky, lemons, limes.
There's nothing young about this.  One could confuse this for a single cask 10yo Ardbeg.
Cooked apples, baked pears, old and heavily used rubbers/wellies.
Lots and lots going on here.
Finish – A lasting fizziness on the tip of my tongue.  Citrus notes remain.
In sum – This is a fine, fine whisky.  While I think I enjoyed the full throttle experience of 60%+ ABV on the two single cask Kilchomans (or would it be Kilchomen at that point?) a bit more, Kilchoman is showing some great promise.  If their whiskies are this good at only 4 years of age, I can't wait to see what happened when they release a 10yo!  This is a winter warmer-upper.
Special thanks goes out to the good folks over at Impex Beverages for the sample!