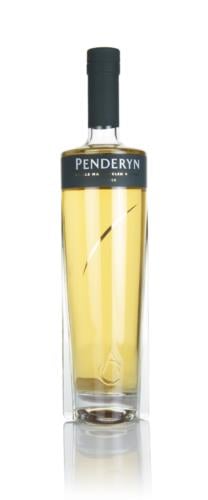 Wales — 46%ABV — $70 | £36 | €55
Penderyn is a new distillery in Wales.
Sometimes I feel like a dumb American.  I'm feeling like one right now as I can not tell you anything about Wales; nothing.  All of the geographical and societal information regarding Wales that I learned way back in high school went through my brain like a sieve.  I hope the Welsh people do not take this personally.
"Every time I learn something new it pushes some old stuff out" – Homer J. Simpson
I decided to learn a bit about Wales before I posted about this whisky and was lucky enough to find this great informational video from Ali G:
I hope this video helped you as much as it helped me!
On the nose — Quite light on the nose – difficult to pull out the scents.
Let's give it a few minutes to open up here…
Fruity and flowery on the nose (but as if you're downwind of the orchard and flower garden).
Still, a very light & restrained nose.
A slight smokiness is revealed here along with some flinty & grassy notes and touch salty.
On the mouth — Surprise!  This is a much bigger whisky than I would have expected from the hints the nose was giving me!
Very youthful with tones of juniper and even a bit of sage.
The peat here is very understated, practically minute.
Barbecue sauce.
Finish — A sea breeze finish that lasts a good while.
The peat becomes more clear here and there's a peppery quality to it.
In sum — This is the off beat, odd duck, alt-country indy rocker of whiskies.  Don't go into this thinking you're going to get a Scotch-type like whisky.  Don't go into this thinking that, if the label says it's peated that you're going to get a smokey whisky.  This is a whisky all its own.  That aside, and as much as I enjoy a young whisky, I think this would have gotten some benefit from a bit more time in a cask (or perhaps to another type of cask to add other elements).
Special thanks goes out to Luke O'Mahony for the sample!!