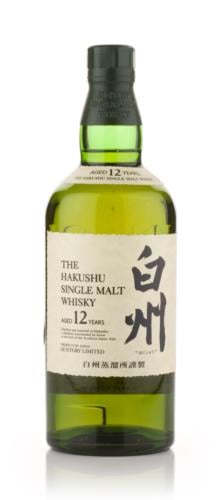 Japan – 43%ABV – £46 | €54
"Hakushu!"
"G-d bless" said a kind yet unknowing man.  We'll call him… "Kevin".  He thought I sneezed when I said Hakushu.  No, that was not a sneeze.  It was me yelling out the name of a Suntory whisky that, with hope, will be available in America this year.
"Kevin" is your typical American who, when it comes to whisk(e)y only thinks of Johnnie Walker, Jack Daniels, Dewars or Southern Comfort… he has never heard of Japanese whisky.  In fact, if you told him that the Japanese produced whisky, he'd most likely remark, "Japanese whisky?!  I never knew the Japanese made Scotch!!"
Just the facts ma'am —
Only the Scots make Scotch.  Simple fact.  Scotch is a whisky.  Bourbon is a whiskey.  Rye whiskey is, you guessed is a whiskey.  And Japanese whisky is… whisky!  Silly do-do American (sorry to all of my compatriots!)!!
What's my point here?  Oh yeah, I love Japanese whisky and I find it really frustrating that there is so little of it readily available in the US.  The good news, as I mentioned above, is that Suntory will be bringing Hakushu to the states very soon.  Currently we can enjoy Hibiki (a blended Japanese whisky; the 21yo made my Best Whisky tasted in 2010 award) and Yamazki which is a single malt.  Both are Suntory whiskies.
Hopefully, sometime soon, we'll get Nikka whisky here in the US.  Until then Suntory's got our backs.
A special thanks goes out to Yoshi M for the generous sample!
On the nose — Initial reaction: fruity, spicy, grapey, floral, malty and a touch of smoke.
Let's break it out a bit though… I think we have a case of which came first, the chicken or the omelet.
Many aspects fighting to the fore such as mango and green apple (predominantly).
The floweriness is lovely here too (a bit of jasmine).
This is honeyed as well with a bit of vanilla.
Spiced gum drops.
Lemongrass and black raisins.
Nice and malty.
On the mouth — Much like the nose except there's a smoked & spiced nuttiness here.
Very malty, gobs of malt – smoked malt (I must stress – this is not an overly smokey whisky).
Fruits abound (they're all up in this shit)!
Think crabapples and green apple pie.
Smokey still though not overbearing… it's balancing out the sweet and spice, right nice.
Finish — The finish is all on jasmine tea and spice.
In sum — A wonderfully balanced whisky that can and will hold it's own against many Scotch whiskies.  This is perfect as an aperitif or as a mid-day dram.  I'm looking forward to this being available in the US.  It's a keeper, an everyday dram for sure.