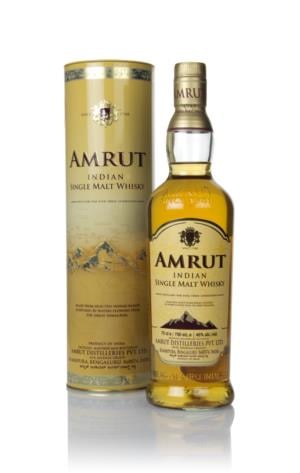 India – 46%ABV – $50 | £27 | €31
Indian whisky, eh?  Whisky from India?  Damn straight and, why not?  Malt whisky is malt whisky & you can make it where ever you want so long as you have:
Barley (check – The barley is specially grown in the foothills of the Himalayas and the whisky is matured at 3,000ft at Bangalore.)
Water (check – have you see the Himalayas lately?)
Yeast (C'mon, this stuff is everywhere)
A place to mature your whisky (Check – the whisky is matured at 3,000ft at Bangalore and these particular expressions are matured in New American Oak and ex-bourbon before bottling).
For this head-to-head comparison between the Amrut Single Malt bottled at 46% and the Cask Strength version, I decided NOT to add any water to the Cask Strength version figuring that the 46% ABV version did this for me already.  A big thanks to Amrut for catering to my lazy side.
On the nose – New York City tap water (from a Connecticutian's perspective) or perhaps clean fresh rain.
Spiced butter on freshly baked sesame bread (oh, I like this – a lot!).
A bag of dried grains (think oats & barely).
There's a savory warmth in here that keeps drawing me in.
Cinnamon rubbed apricots, stewing.
Gruyere cheese.
Vanilla and macaroons.
On the mouth – Excessively chewy.
Chlorinated pool water
And, as much as I wanted to steer clear of indian food references, mango chutney with noticeable gingery notes.
Pine nut and basil pesto (with a clear focus on pine nuts).
Finish – Savory finish filled with buttery breads and more pine nuts.
In sum – Highly enjoyable.  The mouthfeel alone had me in a happy spot.  A nice balanced whisky that is unique.  Easy to approach and exceedingly yummy.  This is a great every day dram, no doubt.
And now onto the cask strength version which has nearly 16% more alcohol by volume…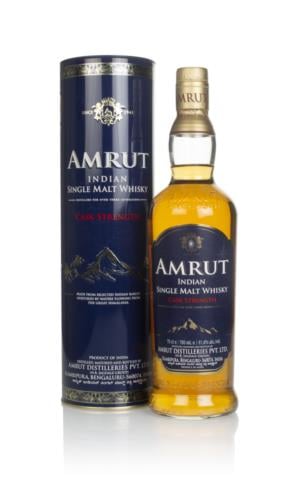 India – 61.8%ABV – $68 | £34 | €39
On the nose – At 61.8%, the first thing I notice is a blast of grain alcohol.
Yes, I know this is a malted whisky but this was the initial impression I got.
Very forward.
Dry popsicle sticks.
Melon pith.
Band-aids.
On the mouth – Hot but, strangely accessible (sort of…).
Sugared melon (honey dew).
Very sweet with notes of caramel apples.
Soy sauce soaked sesame seeds (say that three times real fast!).
Cardamom & fennel seed.
Apricots.
Finish – Blisteringly numbing but now those popsicle stick are back.
Very sweet.
Notes of dry, uncooked pasta.
In sum for the Cask Strength and the overall experience between the two – Someone PLEASE put my mouth out!!  Hot damn, this stuff will wake you up (and put to right back to sleep if you have too much of it!).
The cask strength expression can be reserved for days when you've just had enough and want to say "F### it all!". I've never suggested this before but, go ahead, knock it back and start bitching with your friends!
I've got to say, between this cask strength version and the 46% ABV version, I much prefer the 46% ABV (it really is a nice every day dram and one I plan to keep on my whisky shelf).
Special thanks goes out to Raj at Purple Valley Imports for the tasting samples.