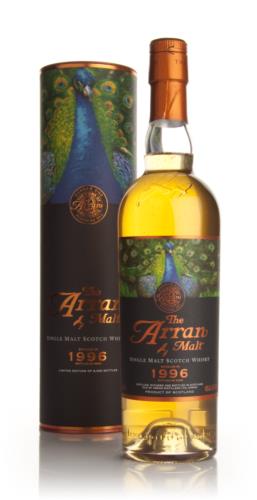 Islands region – 46%ABV – £42 | €50
The Arran Peacock made some big noise when it was released.  It seemed as though every blogger and whisky writer from here to there tasted it, loved it, wrote about.  I thought it might be a good idea to do the same but then second guessed it.  I wanted to be the Johnny-come-lately to the party and post my review AFTER all this precious fluid was sold out.  No, not really.  I just made a funny.
Truth be told, I've had a sample of this whisky for some time and shame on me for not tasting and posting about this stuff sooner.  This is very nice.  So nice that Jim Murray, in his 2011 Whisky Bible, awarded it the Best Single Malt Scotch 11-15 years old with a whopping 96pts out of 100.  Not to shabby!
A special thanks goes out to Jason of Guid Scotch Drink for the sample!
So, what does Joshua Hatton, author of the Whisky Torah think about this stuff?  Read on.
On the nose — Oh, you big sweetie!  Aren't you just filled with all sorts of fun candies?
Did you just come back from trick-or-treating?  Well, this is surely no trick – it's quite the treat!
Strawberry & raspberry pixie stix.
A full roll of smartees and a pack of pineapple lifesavers.
Vanilla is right there.
Some plastic shopping bags (I get this in whiskies every now and again, huh).
On the mouth — Pow! Big caramels upfront followed by golden delicious apples.
Pineapple, white pepper and chloroseptic.
All of these notes hit me at the same time.
The mouthfeel is peppery and abrasive.
Yellow onion.
Lemon custard.
Finish –– Short but with lasting pepper.
In sum — Everything is in it's right place.  A mid day dram, summery and sweet.  Smell the roses.  Revel in all the small things that makes life so beautiful.
A special thanks goes out to Jason of Guid Scotch Drink for the sample!