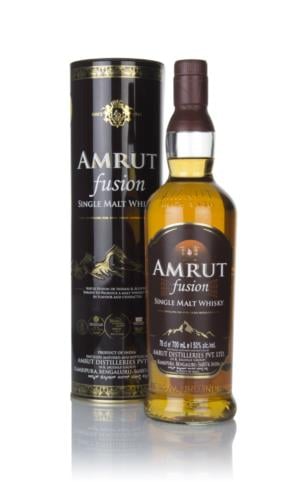 India – 50%ABV – $60 | £34 | €39
A mixture of non-peated Indian barley and peated Scottish barley.  Bottled at 50% ABV, this is some smokin' hot stuff.
I would have written something super fun and funny as a lead up to my review of this whisky but, Peter from The Casks beat me to it – a must read!
Perhaps what I can offer are some alternate fusions that are just plain silly: Christmukkah, George Lucas and Star Wars Ep 1, 2 & 3, L. Ron Hubbard & religion…
Can you think of anymore silly fusions?  My favorite one will win you a 5cl sample of Eades Islay Double Malt.  Leave your ideas in the comments section of this post.
OK.  Onto a fusion that I think may have actually worked out pretty darned well:
On the nose — Damp leaves of both the autumnal variety and teas (think Sencha green tea or perhaps Gyokuro).
Smouldering logs in the distance.
Also, very barn-yardy to me.
Beyond this we find a mixed fruit tin filled, mostly, with pineapple.
Butterfingers candy bar.
With water: Slight nuttiness and something creamy or, better yet, soft – like sniffing marshmallows with nutmeg on them.
On the mouth — Hotter than I expected!
Yes, it's at 50% but I've had no issues sipping on cask strength whiskies (SMWS expressions come to mind) without this complaint.
Increasingly peppery.
Fruits are back.
With water: Still a bit hot on the edges of the tongue but down the center I get a creaminess.
Oranges & apricot jam (reminiscent of Sauternes wine).
Still very pepper-ladden.
Finish — Long, burnt, peppery, fruit.
Hints of dark chocolates.
In sum — A very nice dram that is well balanced and fairly exciting.  I'd love to taste this as part of a blind tasting.  Complex, no doubt.  I do have to say though, that of the five Amruts I've had their standard, unpeated 46% ABV whisky is my fave.
Special thanks goes out to Raj at Purple Valley Imports for the sample (also, thanks to Gal of Whisky Israel who sent me a sample.  Lucky me, I got to review and dissect this whisky as well as just sit back and enjoy a nice dram of it).