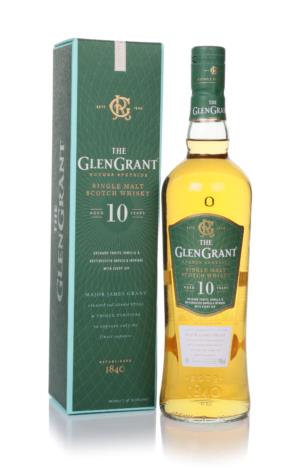 Region – Speyside – ABV – 40%
I've been blogging every single day for the Scotch Whisky Advent Calendar and have decided, or at least thought, I needed a break!
Don't get me wrong, it's been a lot of fun, all of this blogging business.
Interestingly enough, however, now that I'm back into the blogging thing, I feel that I should be sharing my thoughts with the one whisky I just want to relax with – this here Glen Grant 10yo.
I forgot how fun it is to blog.
Here we go then!
On the nose — Roasted almond richness with a little ginger spice lurking around the corners. Cigar wrapper meets pomelo pith.
Some salted peanuts – nice and warm.  Charred oak, and, is that frankincense?
In the mouth — A bit thin due to the ABV but it's got this wonderfully delicate quality to it.
Straight-forwardly fruity with hints of fresh apple and ripe pears.  Perhaps some cherries a la tinned fruit. A hint of anise.
Finish — Medium in length. A touch of brine and burnt brush.
In sum — A solidly straight forward whisky that is perfect in the glass for any social setting. Would love to try this as a non-chill filtered whisky. But hey, I can not complain. Ten year old juice in my glass that is, in some ways, more mature than I am!