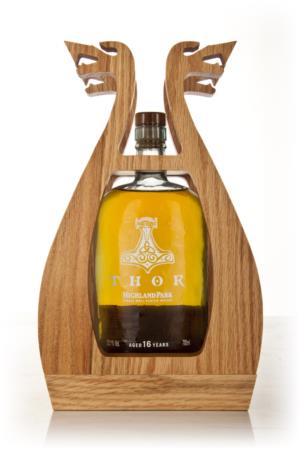 Islands region – 52.1%ABV – $180 | £120
I want to take the high road and not talk about the packaging choice for this whisky.  However, such a statement suggests that I am not a fan of the packaging and this is simply not the case.
I actually think the packaging is sort of cool.  Is it a bit over the top?  Yes.  Does it add on cost to the final selling price of the product?  Of course it does.  Can I use the wooden portion in someway?  (If I ever start playing Dungeons and Dragons again and *need* a prop to represent the boat to cross the River Styx???)  You're gosh darned right I can!
I dig the concept for this new line of whiskies from Highland Park – a line that highlights Orkney's Scandinavian history.  I also like the fact that, as opposed to the four vintages released by Highland Park recently, this whisky (23,000 bottles in all) is released at cask strength.
If I have one complaint about Highland Park (and I think there's *only one* complaint), it's that a majority of their whiskies are released at 40-43% ABV.  Thor, on the other hand, has been bottled at the wonderfully tasty strength of 52.1%ABV.
So, let us see how the Hammer of the Gods tastes.  Will it pack a punch?  Can it live up to the legend of Thor's might?  I'm dying to find out…
On the nose — Forceful, sweet and malty, this Highland Park grabbed me off the bat with lovely, lightly smoked, tropical fruits (a mixture of pineapple and lemon).
I can not tell a lie, the nose on this whisky is intoxicatingly beautiful.
There's a bit of spice and orange flavored salt water taffies.
The balance between sweet, spice, malt, light peating level…  Really, really lovely.
On the mouth — The peat is much more upfront here.  In fact, it's the first thing to greet me upon initial sip.
Spicy along the side of the tongue.  Sweet and malty (again) right down the center of the tongue.
There's a good deal of honey comb in here and the mouthfeel is both oily and effervescent-like at the same time.
There's a fruity tartness here as well.
While *nothing* like the Highland Park 18yo, it has the same wonderful balance found in that whisky.
Finish — Long, spicy, oily and filled with slightly burned things.
In sum —  Four words: I am in love.  While I join the camp that thinks the packaging is over the top, there's no denying that the liquid inside the bottle is exquisite.  I *shudder* at the thought that people will buy this whisky for its packaging and stick it on their whisky shelf to collect dust with the rest of the collection.  This whisky needs to be enjoyed.  Yeah, it's that good.
Special thanks to Steph R for the sample!