Islay region – 51.2%ABV – $89 – $139 (big, dumb price variance.  Can you say price "gouging"?  I know some US retailers can) | £58 | €67
Man-o-Maneschewitz, was the cat let out of the bag on this one or what?!
That's right.  On January 14th, 2011, it was prematurely announced that Ardbeg would be releasing a new whisky: Alligator.
I remember this day quite well as the whisky world was in a tizzy and the folks at LVMH were scrambling a bit (or so I heard).  Think of all the time, planning and money spent on marketing to help create the "buzz" and poof…  Oh well.
Cats out of bags or no, Ardbeg's website/online shop was still temporarily shut down due to sales traffic when the whisky was finally released!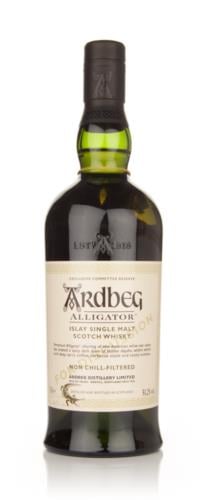 Initially released as a "Committee release" (see image on the left), this whisky sold out damn quick!  With only 1000 Committee Release bottles here in the US (and I think a total of 6,000 world-wide (please someone correct me if I'm wrong on that number), this $hit sold out right quick!
I was able to get seven of those committee bottles.  I sold four (at no profit mind you!) and kept three.
So, what is Ardbeg Alligator?  It's a mixture of 60% Ardbeg 10yo and 40% Ardbeg 10yo (or so) whisky that's been matured in heavily charred bourbon barrels.  The name "Alligator" comes from they type of charring that's been done to the barrels.  The char is so heavy that it resembles alligator skin.  Fun!
Now, what I find interesting is that this has been bottled at 51.2%ABV and nowhere on the bottle does it say cask strength.  At 51.2%ABV and only being around 10 years old, cask strength should be closer to 58-60%ABV.  Ardbeg normally bottles their whiskies at either cask strength or 46%ABV so, why the 51.2%??
Yes, the whisky is damn good at 51.2%.  Maybe that was the driving factor – it was the optimum strength to meet the flavor and mouthfeel.  Or maybe, it was bottled at 51.2% so that they could bottle more whisky.  Or maybe, just maybe, there will be a cask strength version down the road…  Only time will tell.
Just so you're aware, the ABV on both the Committee Release and the new standard bottling as the same: 51.2%ABV.  I am told from a few hi-ranking birdies that the juice is the same from the Committee Release to the standard bottling.
Let taste this schtuff:
On the nose –  Whoa, I like this one here!  Burnt and briny and lemony custard tarts.
Bacon – pure, unadulterated bacon (like walking into a mid-western diner on a Sunday morning?).  This smells wonderful.
Bonesucking Barbecue sauce, vanilla and pencil shavings in the background.
Ballpark hotdog mustard.
Rounded, balanced and oh so sniffable!
On the mouth – Big creamy attack full of vanilla then an assault of charcoal ash (with hot embers still in the center).
Lemony sweet and tart – really affecting the sides of my tongue!
More of the pencil shavings I got on the nose (focus on the wood rather than the graphite).
Grilled and burn asparagus.
Tough to get past the creaminess on this one until we get to the finish…
Finish – Drying and medium in length
In sum – Balanced quite nicely, this is a whisky to just drink and enjoy rather than to pick apart.  I found this absolutely delectable to sit and relax with and that's what I suggest here.  Work hard then relax with a nice glass of this fine whisky.  I can easily drink this every day.  Though at $99/bottle (or $139 at some places), it might break the bank…