Islay region – 61.6%ABV – 750ml bottle – $120 | £95 | €115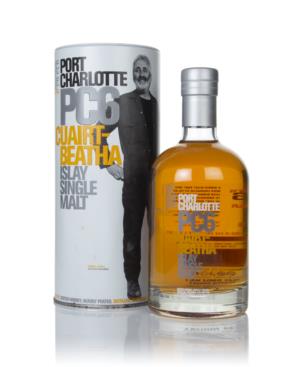 Let the love affair begin.  I've heard lots of good news about Bruichladdich's newer Port Charlotte range.  LOTS of good news.  And lately, I've been hearing some great stuff about the "PC6".  In case you haven't figured it out yet, "PC" stands for "Port Charlotte" and the "6" tells us that, you guessed it, it's a 6 year old whisky.
My first reaction to the fact that this is only six years old is similar to the reaction many people have had — "only six years old and it's how much money???"  Oy vey ishmir!
I had a conversation with a guy from Binny's a while back on the same subject – why so much for such a young whisky (at the time we were discussing last year's Ardbeg Supernova)?  He brought up a good point: "Who cares?  Is it good whisky?" he asked.  "Yes", I told him.  He went on. "Then why does age matter?  You're paying for a well crafted single malt.  You're paying for a work of art.  Who cares how old it is".  Like I said, he makes a good point.  Deep in the back of my head there's that little voice that says "still though…" —   But truly, I think he's right.
So what's all of this good news I speak about?  Check out my links below.  Firstly, let's taste this and see if it's worth it's weight in whisky (a special thanks to DH for the sample!!):
On the nose — Big-ass smoke!  Powerfully pungent with smoke like burning driftwood (think salty peat or perhaps a beach bonfire).  Sparklers on the 4th of July (for my US readers out there).  Soured & sweet milk notes (baby vomit).
Serge of Whisky Fun nailed it with his detection of buttered mashed potatoes – on the nose Serge (pun intended)! Leather jackets and damp horse stable.  That leather smell alone makes me want to break out Iggy Pop's "Raw Power".  Either that or Yes' Close to the Edge and put in on full blast – two very different albums but somehow both fitting to this whisky.  Powerful yet complex and beautiful.
On the mouth — Mmmm, mmmm – chewy smoked cheese, electrical charges and spent matches, tannic, drying but first a nice juicy entry.  Fruity notes and buttermilk biscuits (albeit burnt ones).
The peat is wonderful here and somehow refreshing even in this hot weather (it hit 89 deg fahrenheit today!).  At 61.6% ABV I know I should add a little water but this is so nice at full strength.
Finish — It's all on the leather and now some great grassy floral notes (almost rose petal) come out, then some burn arrives and it gets a tad effervescent.  Even an hour later and my mouth is still filled with smoke and ash.  Love it!
In sum — Wonderfully heavily-peated expression.  If you're not a peat fan, you probably have not read this far down in the review…  If you're interested in getting into peated and smokey whiskies this will surely pique your interest (but may scare the living shit out of you; in a good way though, like the first time you saw The Exorcist.  Scary as hell but, you watched it again and could not wait for the pea soup to flow).  If you're a peathead, welcome to heaven.
See what others have to say: