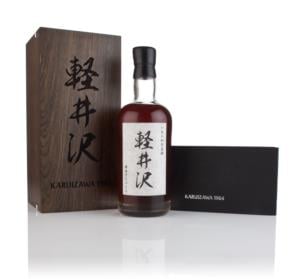 Japan — 57.7% ABV — 70cl — £8995 | $13929
I spent about a week in Mexico City.  You know, work stuff as per usual.
Boy, was it hot down there!  About 85 degrees; a nice dry heat.  Quite a change from the mid 20 something degrees Fahrenheit and the 30+ inches of snow I had waiting for me at home.
While I was sad to say good-bye to Mexico, I was happy to come home again to the wife and chillins.  Also waiting for me at home were three samples.  One was a Bruichladdich from a Mr. LZ. 
Another sample was the new Balvenie 12yo Single Barrel from Mr. AW and, finally, a sample of this here Karuizawa from 1964 (cask 3603).
While I was excited to receive all three, ¡Holy frijoles, was I a happy boy to have received this historical Karuizawa sample!  Very much an unexpected package!
At the time of bottling, this was the oldest Karuizawa to ever have been bottled and now I was going to get to taste and review it!
Before I go further, I must thank everyone from Master of Malt for thinking of me (again — remember the sample of 1953 Glenfarclas they sent to me?  I do!).  Also, a big thanks to Michal Kowalski of Wealth Solutions!
So last night I had made a Facebook status update telling people: "I'm going to have a 48 year old in my mouth tonight.  Get your minds out of the gutter, I'm talking about whisky!"
The snark factor on Facebook seemed unusually high as an old school mate of mine (known as "the other Josh") returned with this image:
After a few comments, David Hartogs (friend, member of Single Cask Nation and occasional guest poster.  Note here and here) chimed in with: "What's the verdict?"
That same old school mate, the other Josh, came back with:
Ah, the Facebook…
Funny schtuff aside, let's taste some history (not Frank, the Karuizawa):
On the nose — Initially hot to the nostrils but from the go (after the heat) is bitter Mexican chocolate and clementines.
Heated butter, not burnt but heated with bits of dill weed swirling in the near butter boil.
Cracklin' Oat Bran cereal and burnt sugar.  Rotting stone fruits (peach juice turned bad… but in a good way).
Rubber soles on sneakers.  Black Pu'er tea (like with the Glenmorangie Ealanta).
Apple sauce (slight note) and boiling berries.  Noticeably fragrant mahogany furniture.  Cherry cola.
With water the heat is nearly gone.   Chocolate covered Werther's and good, old-fashioned belt leather.  Loose leaf paper (like a 5 subject notebook, not copy paper).
More mahogany and apple fritter grizzle.  This has become a joy to nose.
On the mouth — Intensely hot on first sip.  Almost absurdly hot; like a $2 pistol.  Burning rubber, wooden window sills (with fresh, hot lacquer).
I better add a drop of water before my head catches fire.
With water she's still hot, but fresh with mangoes and mango skin, tinned fruits, window sills (again) lacquer (again), lots of tropical fruits popping about — sort of crazy and not what I expected at all.
Sweet papaya (not the earthy/footy papaya), hints of guanabana and guava paste (??).  Aerosol paint and paint caps.  Beeswax across the front of the palate, too.
Not oily or viscous in any way.
Finish —  Like the fast decay at the end of a song, bitter chocolates leave their echo upon the tongue.  Slight touch of dill as well.
WW — Very waxy finish, flat cola, drying and lasting longer now with the water.
In sum — An intensely hot whisky that loves water more than I love whisky.  Once given the water she desires, she simmers right down and opens up to tell you her life story.
A whisky experience unlike any other I've had to date.  If you have the casheesh to buy a bottle, open said bottle and try it without the water.   Then, add 3 drops or so to your dram.
The transformation from The Hulk into Dr. Robert Bruce Banner is astonishing.
You might also enjoy Oli's review on dramming.com
Also, check out the review at guidscotchdrink.com
Serge's reviews are always a joy to read, too!