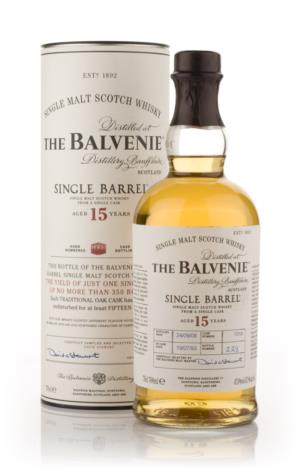 Speyside – 47.8%ABV – 750ml – $60-65 | £42 | €51
Balvenie week, Day #5.  The final day in this series (though surely not my final Balvenie!).  A big thanks once again to Sam Simmons (aka Dr. Whisky) for the videos and samples!
The Balvenie 15yr Single Barrel was my first Balvenie ever and currently, my favorite.  I remember the day I bought the bottle as if it were yesterday…
Looking at the storekeepers stock, I had a choice of The Balvenie 12yr DoubleWood for $36 or the 15yr for about $49 (it's now a good $60-65 bottle of the 15yr these days).  I went into the store with the good intention of buying the DoubleWood but when I saw that I could get 3 more years worth of whisky for only $13, I jumped for it.  It's sort of silly now that I think about…  I now feel that, for the most part, age doesn't mean anything.  Taste does.
So, how does this stuff taste?  Well, there are two answers to that question:
A) It tastes damn good (as you'll see in my notes below)
B) Because this is a single barrel expression, there's a good chance that every bottle you buy could have come from a different barrel and the fluid could be more than 15yrs old (remember, an age statement with whisk(e)y is a minimum age statement), resulting in a slightly different tasting whisky each time.  This is one of the things I love the most about this Balvenie series – you get something new every time.  It's like getting the honeymoon period of a romantic relationship in a bottle!  Cool stuff.
On to the video…  At long last (well, not that long.  It's only been a week), we arrive at the final video of the series.  Today we are featuring Mr. David Stewart.  Yes, the David Stewart.  The man who designs and meticulously selects all of the whiskies for The Balvenie range.  David, thank you for agreeing to be interviewed and for explaining why the Balvenie 15yr is also your favorite Balvenie:
And now my review of The Balvenie 15yr Single Barrel:
On the nose – The higher ABV for this one is dead on.  Good on you, David!
Big bright fruits peaches (in white wine) & cantaloupe.
Marzipan – sharp almond notes.
Thai yellow curry & lightly buttered couscous (even getting some lime leaf here).
And floating on top of it all, those classic Balvenie honeyed notes.
On the mouth – Pure honey and citrus.
Hints of water cured ginger.
A slight brininess to this.
Great mouth feel – thick and sweet but not overly so.
The sweetness is pushed aside and now there a nice tapioca pudding quality to this.
Finish – There's a fizziness throughout my entire mouth and lingering citrus and honey notes.
A delicious nuttiness returns (reminiscent of the marzipan note from before though, less sharp).
In sum – There's something so elegant about The Balvenie.  While this is nice enough as an everyday drinker, I can picture myself saving it for a special evening – a nice Shabbat (the Sabbath) dram!  Wait a sec, Shabbat starts tonight!  Also, its my oldest daughter's 4th birthday.  I think I'll celebrate both occasions with a little Balvenie 15yr.
L'chayim!