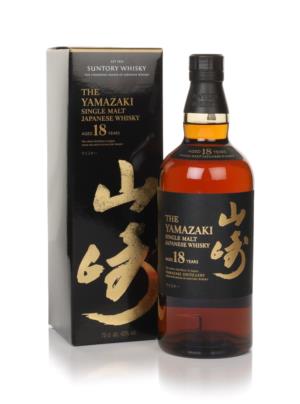 Japan – 43%ABV – 750ml –  $80-100 | £60 | €73
I'll get right to the point here, I loves me some Japanese whisky.  Yamazaki 12yr?  Loved it.  Nikka Yoichi 12yr?  Can I have more?  The Yamazaki Sherry cask?  I will sin for you.  Nikka Yoichi 20yr 1988 vintage?  Sweet fancy Moshe!!
This is the tip of the iceberg.  Here's my next new love – The Yamazaki 18yr – a fine sherried whisky.
On the nose – Delicious sherried nose. Spicy as all hell with bursts of cinnamon.
Hot pepper peanut butter.
Red grapes and grappa.
Underneath some great notes of prunes.
That high sweet note that I just love from the Yamazaki whiskies.
A salty note is here – celery salt?
Finally, new leather and pipe tobacco.
On the mouth – Chili pepper chocolates.
Crystalized ginger.
Caramels, poached pear (slight).
Fresh lawn mulch.
The mouth feel is so chewylicious….  Not a super winey sherried malt (thank you Suntory!) just, nice.
Finish – Cheyenne peppers and breakfast cereals – Kellogs mini-wheats (sans frosting).
Oak and tobacco.
Lasting & lovely.
In sum – I haven't met a Yamazaki I haven't loved.  A finely balanced whisky perfect for the fall time.  Watch the leaves fall, throw on a sweater, get ready for the new year (I'm talking Rosh Hashanah here, folks).